Sorry about this page this page is Big news or short. will the thing is i really working on new stories coming up for Fanfiction and Wattpad. But only i need some reviews and feedback from Wattpad so i can start a new story i working on. Also i have some tags about me *if you know about me* or who don't know about me.
But i still Love Kickin'it, Lab rats and Austin and Ally. So the season 4 Kickin'it is the final NOO! for real i still love the character are grown up. But my favourite actor i still Love Leo Howard. Becuase *sigh* i love his martial arts and he really good at guitar. but i really gonna write about him in Quotev so i still stuck on the plans for the new stories.
Short Blog
Edit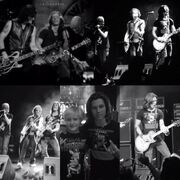 Sorry about this is this the short blog to say thanks to the Followers in Fanfiction and i really happy about the stories i worte so far. But i love Fanfiction so i will keep going on the stories and hope you like the stories and the new stories are coming soon in fanfiction. Please review it so i ill start a new story and the Finale one of 2013 of
Shake it up
and
Kickin'it
.
And the photo i got in here is the Rock and Roll Band from Leo Howard. Shoot! so i love him when i saw him in the show. his voice got changed alot and he becoming a great man. Geez oh really Jerry Really! sorry about that. moving on.
Hope u like it
Edit
hope u like this page and hopefully you wil have a great holiday and happy easter and happy mother day too.